Are We Consumed by our Smart Homes?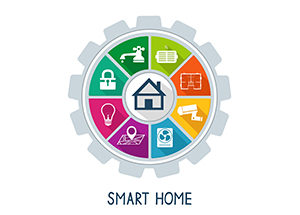 Smart home IT devices help out with almost everything we do in our daily lives, and their skills are still growing. We use devices to start our morning coffee, to activate smart cleaning appliances, and to track our fitness. These devices now seem to touch every facet of our daily lives, and the high-tech advanced electronic industry is banking on the growth continuing.
The Consumer Technology Association (CTA) reported that the 2018 increase in consumer technology spending was due in large part to new capabilities including artificial intelligence (AI), voice-recognition and fast connectivity. These three components are secret ingredients for smart speakers, smart home devices and technologies, and our smartphones. 
So, which devices play into this growing consumer interest, and which are expected to continue to grow? Here's what the CTA expects:
Smart speakers
Smart speaker sales are expected to grow nearly 45% growth in the next year.
Other smart home devices
The CTA believes other smart home device sales will similar growth in the coming year. These include smart thermostats, smart smoke and carbon monoxide detectors, IP/Wi-Fi cameras, smart locks and doorbells, smart home systems, and smart switches, dimmers and outlets.
Whole Home Wi-Fi Solutions
The whole home Wi-Fi solutions market is expected to grow exponentially. The appeal? A simple set-up and strong Internet coverage throughout the entire home.
Drones
Interest in drones sales will continue to rise. Many businesses are even are buying into drones for photography and other uses.
Fitness trackers
Fitness trackers are phenomenally popular. These include activity trackers, health and fitness devices, smartwatches, personal sound amplification products and sports technology like smart baseball bats or basketballs.