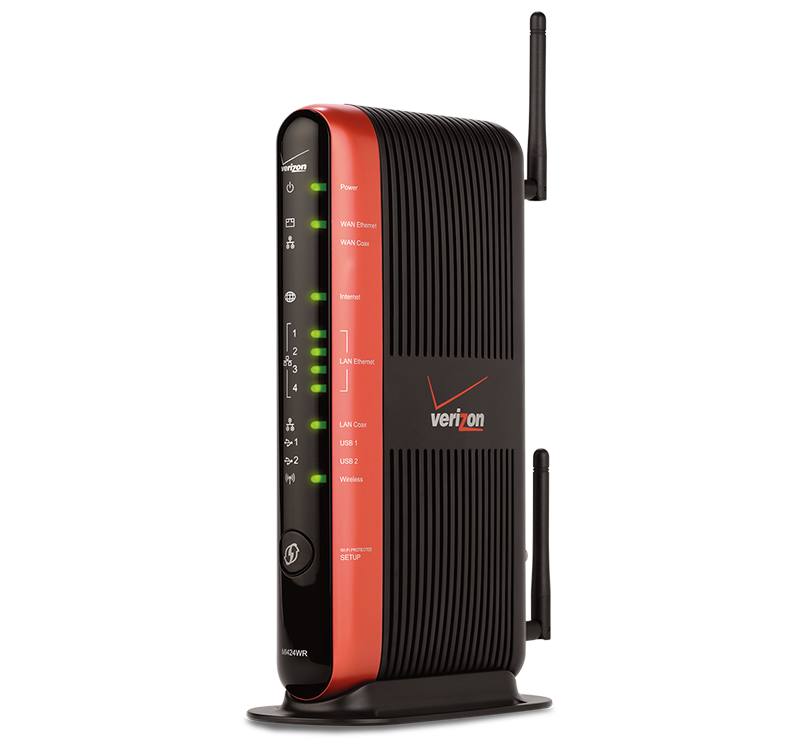 Wireless Broadband Router
The Wireless Broadband Router has been updated to include Gigabit Ethernet to support very high speed Internet service. This Wireless Broadband Router also packs in more features and performance capabilities than any other
fiber router
on the market. This Wireless Broadband Router breaks previous industry performance benchmarks, increasing in-home networking speeds up to 1000 Mbps wired (with the Gigabit Ethernet interface) and 300 Mbps wireless.
A Powerhouse, Able to Stream Multiple Videos Concurrently
The MI424WR Router sets a new industry standard for performance, increasing service speeds up to 1 Gbps wired (with Gigabit Ethernet interface) and 300 Mbps wireless, thanks to its new 802.11n wireless chipset. Able to support multiple value-added,bandwidth-intensive applications, this broadband wireless router has become more than just a simple router. It can handle multiple high-throughput media streams simultaneously, including standard and HDTV-based video programming and feed personal video recording functionality from multiple HD set top boxes or other digital storage devices to multiple TVs in the house.
The Industry's First Dual-Core 64-bit Processor
Actiontec's MI424WR router features an advanced hardware design including an industry-first 64-bit, dual core processor. The router's 64-bit architecture provides a substantial performance improvement over the 32-bit devices sold. The MI424WR router's MIPS core offers further performance improvement and additional instructions for networking applications reducing the number of cycles needed for even greater CPU efficiency.
Substantial Protection and Security
With all that data coming in, the security features had better be first rate, and the Actiontec MI424WR Router doesn't disappoint. The MI424WR router ships with wireless encryption using WPA2 turned on by default.The MI424WR router offers enterprise-level security, including a fully customizable firewall with Stateful Packet Inspection, denial of service protection, and intrusion detection to keep unwanted visitors from accessing the user's network.The Actiontec MI424WR Router also offers user-defined site blocking by URL and keyword, the ability to customize filtering policies for each computer, and user notification of attempted access to restricted sites.
INTERFACES:
- Four 10/100/1000 BaseT Ethernet LAN
- One 10/100/1000 BaseT Ethernet WAN
WIRELESS:
- 802.11 b/g/n
- WPS
WIRELESS SECURITY:
- Wi-Fi Protected Access (WPA, WPA2)
- WEP, TKIP encryption
- 802.1x authentication
- Pre-Shared Key (PSK)
- MAC Address Filtering
How to Buy
This product only sold directly through Service Providers.