Apple and Qualcomm Continue to Battle over Royalties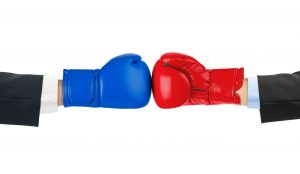 Qualcomm has thrown a punch back at Apple and taken the fight to another level.
Qualcomm is now asking the International Trade Commission (ITC) to implement a trade ban on the importation of the Apple iPhone into the U.S. If a trade ban were to be implemented, it could jeopardize the U.S. launch of the highly anticipated Apple iPhone 8.
The fight, which started back in January, is over six Qualcomm patents covering key technologies. These patents allow it to charge royalties on smartphones with a high-speed internet connection, even if they don't contain any components with the Qualcomm name on them. Apple says that this is unfair and has been able to extract some measure of revenge by not paying Qualcomm.
Earlier this year, Apple filed a $1 billion lawsuit against Qualcomm. Their contention being the chipmaker insists on royalties for its technologies and demands payments for technologies it didn't develop, such as Apple's Touch ID. While the suit seeks damages of just less than $1 billion, Apple claimed it has been overcharged billions of dollars with Qualcomm's "illegal scheme."
So last month, Apple decided to stop paying the royalties to the chipmaker until the battle over the patent royalties is worked out.
In a Qualcomm press release, General Counsel Don Rosenberg said, "The patents we are asserting represent six important technologies, out of a portfolio of thousands, and each is vital to iPhone functions. Apple continues to use Qualcomm's technology while refusing to pay for it. These lawsuits seek to stop Apple's infringement of six of our patented technologies."
It's likely to take at least a year or more to sort this battle out. In the meantime, things could get interesting. Qualcomm expects to report lower profits for the second quarter because Apple stopped paying royalties. Ouch. At least we all have a ringside seat.