The Portable Ojo Projector Dock is Impressive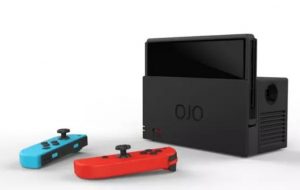 According to Tech Crunch online magazine, the Ojo projector dock is an impressive add-on for the Nintendo Switch. Showcased at last year's CES, the high-res projector received strong feedback and lots of financial backing.
TC raved about the 200-lumen portable device, which can be used anywhere. It is barely larger than the Switch itself, making it easy to transport and store.
The built-in battery supplies four solid hours of viewing time and charges while in use. Another great feature is the integrated speaker. It puts out a plethora of high-quality sound even in ambient environments.
Another great feature is the HDMI port. It allows you to use it with other devices for business or play.
Our verdict? The Ojo projector dock is a delight and makes a great accessory for Nintendo's Switch. It will ship soon for $369.