The Threat of 5G Could Boost Your Network to 10 Gbps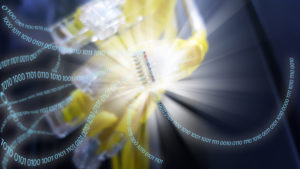 5g is just around the corning, and cable companies are getting worried. The threat of bringing true mobile broadband may prompt them into boosting current customer speeds up to 10 Gbps.
10 Gigabits per second is really fast. With it, you could download an HD movie in just a couple of seconds. It is 1,000 times faster than your current broadband speed.
More Speed, More Need
Although it may seem like overkill, with today's high-definition TVs and 4K movies, users are consuming more bandwidth than ever before. So this jump, as a proactive response to a threat, may also pave the way for even more robust, data-hungry technology.
Very few cities in the U.S. currently offer 10 Gbps, but with 5G nipping at the heels of cable companies, that figure is likely to climb quickly this year.
Ironically many of the 5G wireless providers will be using the same cable hardware as a backbone for their wireless networks. A lot more fiber is being installed now to support the infrastructure of both cable and wireless systems.