Your LG Dishwasher Just Got Smarter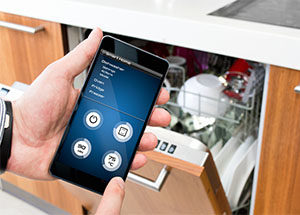 LG just announced that all of their 2018 dishwashers with come fully equipped with its patented ThinQ Smart technology app and will be WiFi enabled. This nifty feature will allow customers to control their dishwashers using voice commands through Alexa and Google smart home devices.
Features and Add-Ons
Some of the things you will want to try are starting and stopping the run cycle, checking how much time is left, and receiving alerts when the cycle is complete.
The dishwasher itself will not have voice commands built into it. However, you can control it using both Google Assistant and the Amazon Alexa ecosystem of devices to perform tasks.
Along with the new smart features, 2018 models will also include QuadWash technology using four washing arms rather than two. This feature alone may be worth an upgrade, as it tested well against other models regarding better cleaning performance.