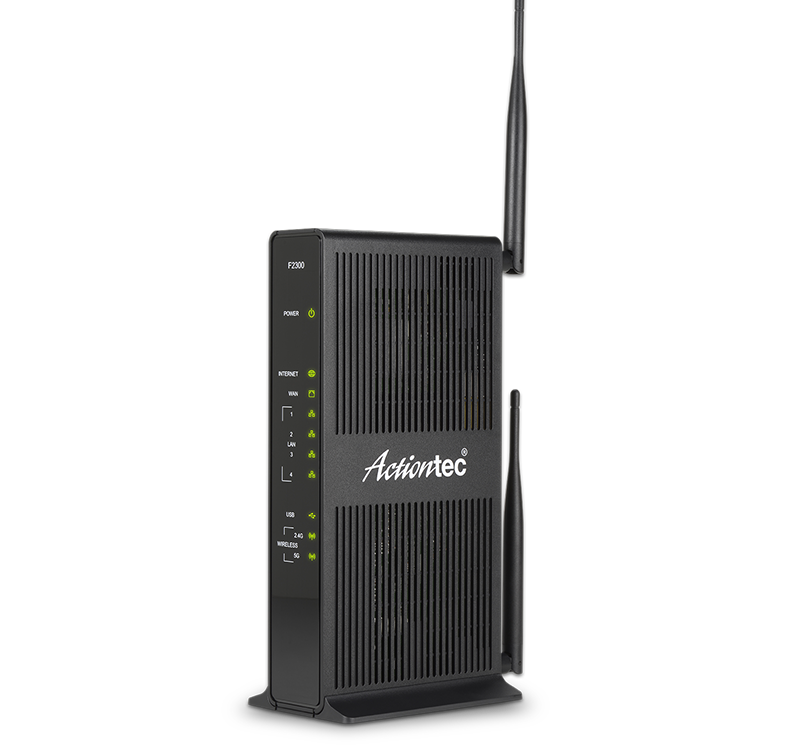 The Wireless AC Fiber Router F2300 is an ultra-fast wireless fiber router. This powerful device offers Ethernet WAN versatility, with support for any high speed Internet modem that can connect to a router via Ethernet. And an ultra-powerful hardware design and loads of in-home networking options (including Gigabit Ethernet and Wireless AC) ensure blazing fast performance for any application.
Gigabit Ethernet built-in
Gigabit Ethernet is available on the LAN and WAN side. Supporting speeds up to 1000 Mbps, the Wireless AC Fiber Router F2300 excels in a Fiber network where users can surf at incredibly high speeds.
802.11AC wireless built-in
The F2300 supports 802.11ac and 802.11n out of the box (as well as older wireless protocols). With blazing fast wireless AC speeds, users can do more, faster. And backwards compatibility with 802.11b/g/n devices gives users the flexibility needed to connect all their wireless devices.
INTERFACES:
- One 10/100/1000 BaseT Ethernet WAN
- Four 10/100/1000 BaseT Ethernet LAN
- Two USB 2.0 Host Port

WIRELESS:
- 802.11 b/g/n/ac
- WPS
WIRELESS SECURITY:
- Wi-Fi Protected Access (WPA,WPA2)
- Wi-Fi Protected Setup (WPS)
- MAC Address Filtering



REGULATORY:
- FCC
- UL
- WiFi

How to Buy
This product only sold directly through Service Providers.