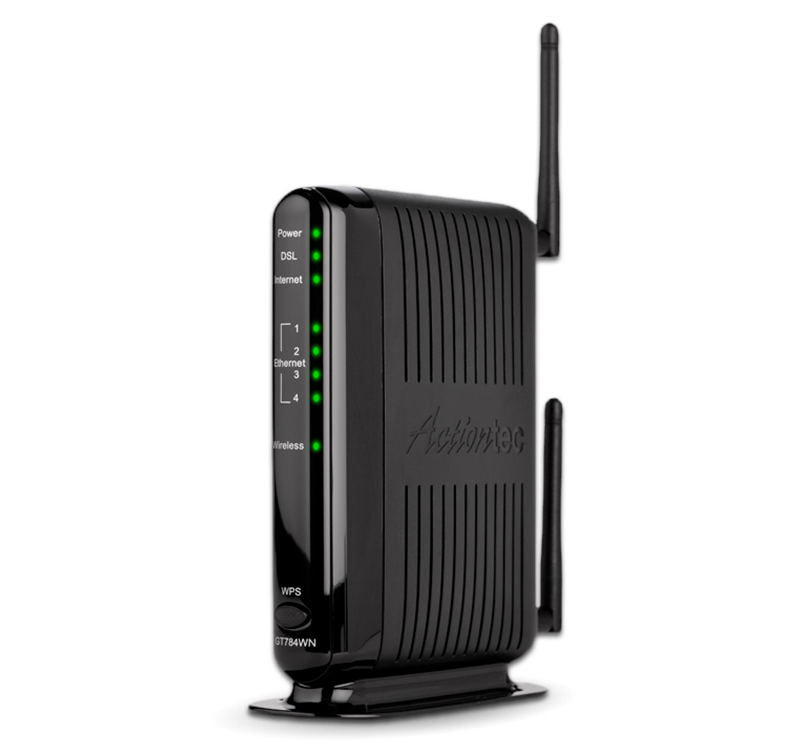 Wireless N DSL Modem Router
The full-featured GT784WN DSL Modem Wireless Router reduces the technology clutter. By integrating a
DSL modem
, wireless N networking, and full routing capability in one box, the GT784WN lets you solve all of your customer's connection and networking needs. The modem has been tested for maximum performance on all major DSL providers and supports ADSL2+ with speeds up to 24 Mbps downstream.
Reseller #: GT784WN-01
Out of the box, this DSL modem wireless router gives you the flexibility and power you need to connect all of your wireless devices.With the latest 802.11n technology your newer devices will achieve wireless N speeds! MIMO smart antenna technology further improves your wireless performance giving you better coverage and fewer dead spots. Backwards compatibility ensures that older wireless devices are supported, giving your wireless network the best of both worlds.
ADSL2+ is the DSL standard that enhances modem performance by tripling the available bandwidth (from 8 Mbps to 24 Mbps). Say goodbye to stuttering, pixilated video streams and the endless wait while downloading large files. There's more room for voice data, as well, so you can enjoy free or low-cost Internet telephone conversations.
Robust Firewall and Wireless Security
INTERFACES:
- Four 10/100 Ethernet LAN
- One ADSL Port
WIRELESS:
- 802.11 b/g/n
- WPS
WIRELESS SECURITY:
- Wi-Fi Protected Access (WPA,WPA2)
- AES encryption
- Pre-Shared Key (PSK)
- MAC Address Filtering

REGULATORY:
- FCC
- UL
How to Buy
This product only sold directly through Service Providers.