Nearly 60% of US Teens Have Experienced Cyberbullying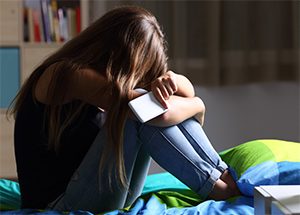 None of us is a stranger to name-calling and rumors or how they can affect us, especially in our teen years. But add smartphones, the Internet and social media into the mix and the problems transform into something more widespread.
A recent survey from Pew Research Center found that 59% of US teens have experienced some form of online bullying and harassment. The most common type is name-calling.
Here are some findings from the survey:
42% of teens were affected by offensive name-calling
32% were affected by the spread of false rumors
25% received images they didn't ask for
21% were bothered by someone continually asking where they were, what they were doing, who they were with, etc.
16% received physical threats
7% had their images shared without consent
Over 3/4 of teens believe elected officials are doing a fair or poor job of addressing this problem. They believe that key leaders are not tackling the issue or even talking about it. This includes like teachers, social media companies and politicians.
Does Cyberbullying Effect Boys and Girls Differently?
According Pew Research, about an equal number of boys and girls experience harassment online, but there are differences in the types of bullying. For example, it is more likely that boys received name-calling and physical threats, while girls deal more with false rumors.
Can We Stop Cyberbullying?
Some school officials, tech companies and lawmakers are making efforts to combat cyberbullying. For example, some schools put policies in place that punish students for bullying even when those exchanges occur off campus. Social media companies are rolling out things like anti-bullying tools, and several states have enacted laws prohibiting cyberbullying and other forms of electronic harassment. More needs to be done.