Only $23.99 For a Home Eye Test Kit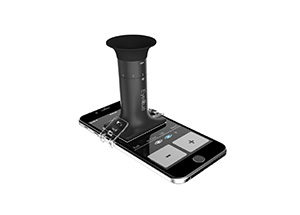 Want a quick, cheap and easy way to check your vision? Enter the EyeQue Personal Vision Tracker!
This personal vision tracker comes with a small plastic scope that attaches to your cell phone. The accompanying app then checks each eye using a series of tests. The results will give you your vision numbers so you can order glasses online or at a local retailer.
To make sure you use it correctly, the app starts off with a comprehensive video tutorial and practice test.
The EyeQue device is compatible with specific cell phones so check the list before ordering. There is currently , however, a 30-day money-back guarantee.
One quick thing to note is that EyeQue requires an annual subscription but the first year is free and each subsequent year is only $4.99. The money you save not going to the optometrist should cover that yearly fee nicely.