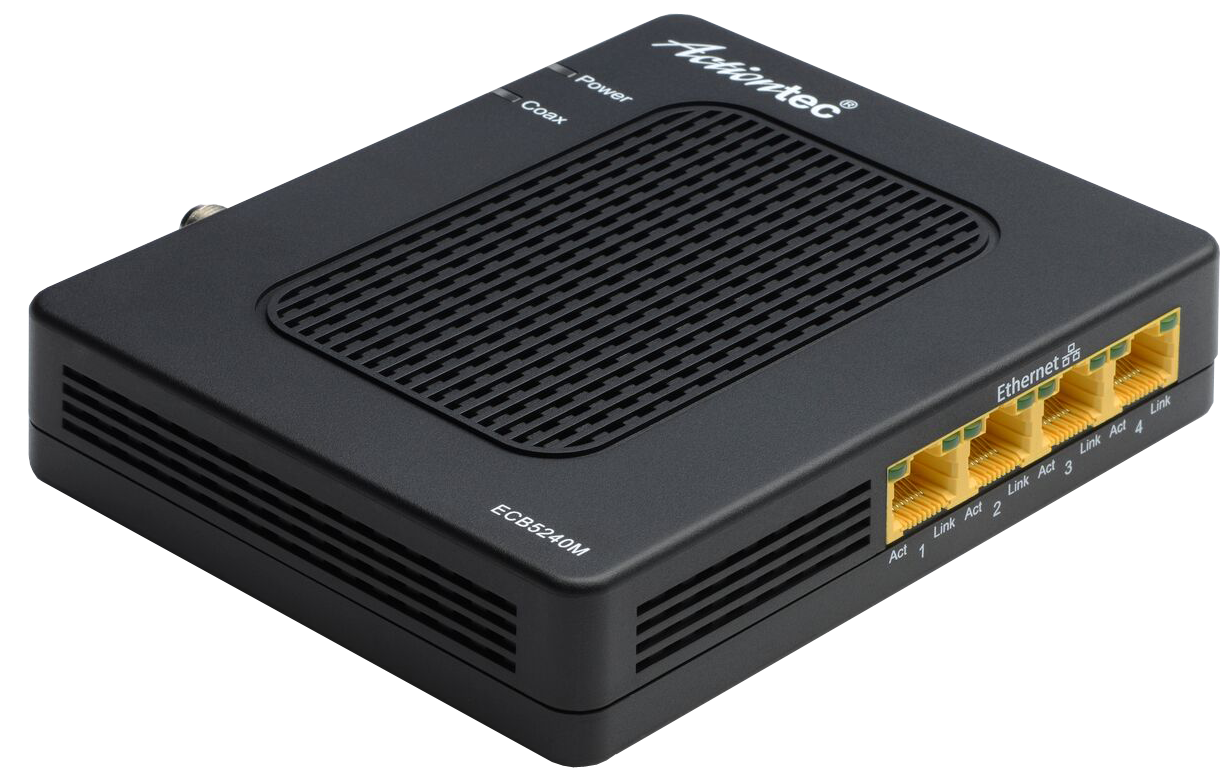 Do you want better WiFi…faster speeds, lag-free gaming and pristine 4k and HD streaming? The ECB5240M 4-Port Bonded MoCA 2.0 Network Adapter is the answer. Just plug the MoCA adapter into the coaxial port in your home theater, living room, or anywhere else – and you can enjoy always-reliable, Gigabit speeds on your HDTV, gaming console, and more. You get the best of both worlds: the convenience of WiFi throughout the home with the robustness of wires where you need them. Best of all, the ECB5240M is affordable and can be installed in minutes.
Available for Service Providers ONLY.
Want Better WiFi? Try Wires
When streaming video to the living room and home theater, no one wants to settle for buffering, standard definition, bad audio and other quality problems. With the ECB5240M 4-Port Bonded MoCA 2.0 Network Adapter, you don't have to settle. You can complement your home Wi-Fi network with always-reliable wired connections that deliver Gigabit speeds to your television,
Works Wherever You Have a Coax Outlet
MoCA technology turns your home's existing coaxial wires into a high-speed, whole home network. Wherever you have a coaxial port, you can get high speed Internet access…perfect for online gaming or streaming an HD movie. This means you can connect a device in the home theater, even bring an awesome gaming experience to the basement, without having to run Ethernet cable all over the house or struggle with wireless dead zones or spotty signal strength.
Four Ethernet Ports for All Your Devices
With four Ethernet ports, the ECB5240M network adapter ensures you'll have more than enough wired connections for all your devices in the home entertainment center, home office, or other high-density locations. Connect your HD television, streaming media device, set top box, gaming console, and more.
This MoCA Network Adapter is designed specifically for homes with Cable TV and is compatible with virtually any device that has an Ethernet port, including Blu-ray, Xbox 360, PS3, streaming media devices, computers and more. It does not support homes with satellite TV.
MoCA technology guarantees the distribution of 
HD
 and 
Ultra-HD
content around the home over coax. With support for the latest MoCA 2.0 standard, the ECB5240M delivers wired speeds up to
1 Gbps
*, more than enough bandwidth for HD video, online gaming, and other demanding applications. Join the millions of homes in North America that are taking their HD video streaming and online gaming to the next level with an Actiontec MoCA solution.
* Theoretical data throughput numbers are based on maximum, theoretical PHY throughput for MoCA 2.0. Actual data throughput of up to 1.06 Gbps (TCP) seen in laboratory testing. The throughput will vary based on the condition and noise found on the coaxial cabling within the home as well as the type of Ethernet Adapter supported on each computer or other device.
TR-069 Manageable for a Better Experience
The ECB5240M includes TR-069 support, giving Broadband Service Providers the ability to remotely manage and troubleshoot the adapter to ensure a flawless customer experience.
INTERFACES:
- Four 10/100/1000 Base T 802.3ab Ethernet LAN
- One MoCA 2.0/1.1/1.0 Coaxial Jack
NETWORK SIZE:
- Up to 16 Devices (including NC)
REGULATORY:
- FCC
- UL
- MoCA
How to Buy
This product only sold directly through Service Providers.