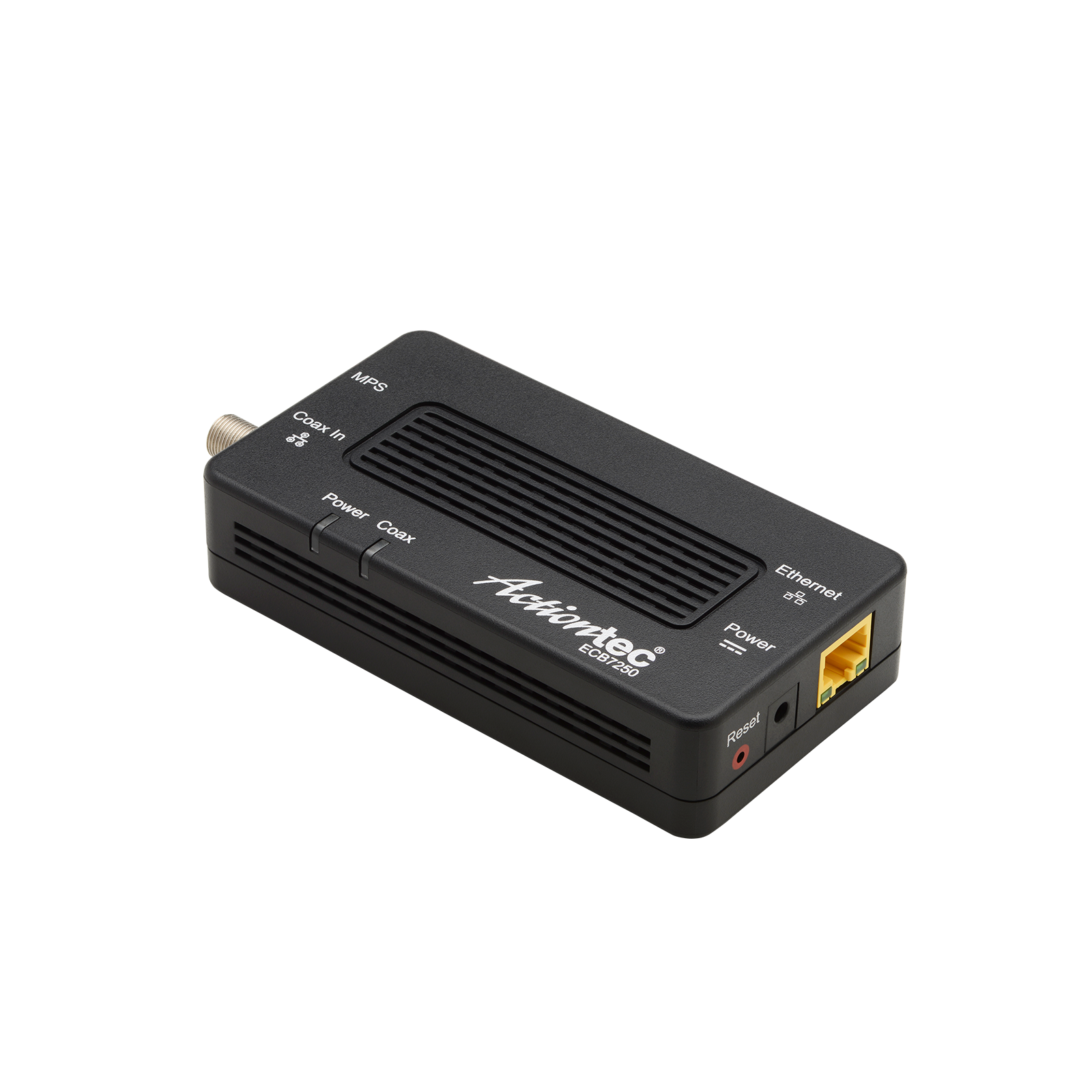 Bonded MoCA 2.5 WiFi 6 Network Adapter
Actiontec's ECB7250 WiFi Network Adapter uses the latest bonded MoCA 2.5 standard, next-generation WiFi 6, video prioritization technology, a powerful 4×4 5 GHz radio for pristine performance.  Create a Gigabit Ethernet connection and deliver corner-to-corner wired or wireless connectivity to everything from legacy wireless laptops, computers and gaming platforms, up to the most current (and future) Apple and Android tablets, laptops, media platforms, and smartphones.
Use Existing Coax Wiring for Ethernet Network
With MoCA technology, the ECB7250 transforms existing coaxial wiring into a reliable Ethernet network that delivers fast, gigabit Internet access to the many devices in the home. Get the power of a wired connection, extended to the far corners of the home. Get the best of both worlds: the convenience of Wi-Fi throughout the entire home with the solid reliability of wires and faster speeds where ever you need them.
Gigabit Speeds with Bonded MoCA 2.5 Technology
The ECB7250 MoCA Network Adapter bonds MoCA channels together to increase the size of the pipe and to deliver speeds up to 1 Gbps throughout the home's existing coaxial wiring. The result is more than enough bandwidth for HD video, online gaming, and other high-bandwidth demanding applications.
Corner-to-Corner WiFi in the Home
The ECB7250 MoCA Network Adapter works over the home's existing coaxial wiring, enabling homeowners to enjoy the reliability and performance of a wired connection without having to wire the home for Gigabit Ethernet. Just plug one MoCA adapter into your router and another to the HDTV, set top box or other device. Most do-it-yourself consumers can complete the installation in less than 5 minutes and installation professionals no longer need to pull cables throughout the house.
Next Generation WiFi 6 Speeds
The WiFi Network Adapter ECB7250 is capable of delivering wireless speeds up to 2.5 Gbps*, stream HD-quality video and play online games without any glitches or lag.
Supports Optimized Wireless
The ECB7250 supports Actiontec's SmartSteering band steering intelligence that automatically guides device traffic onto the optimal frequency for best performance of that device. It helps to improve the overall performance of the Wi-Fi network, relieving network congestion before it becomes a problem, translating into an improved customer experience and higher satisfaction.
The ECB7250 includes a full suite of remote TR-069 management features, giving Broadband Service Providers the ability to remotely manage and troubleshoot the Adapter, reducing operational expenses and ensuring a flawless customer experience.
Optim Managed WiFi to Avoid Truck Rolls
The ECB7250 supports Optim's Managed WiFi Solution, giving both your customers and technicians the ability to troubleshoot WiFi issues and to manage the home network for optimal performance.  Technicians can remotely gain visibility into the connection to see connected devices and  network congestion or other issue-causing WiFi troubles so they can make informed decisions and obtain other actionable information.
INTERFACES:
- Two 10/100/1000 Ethernet Ports
- One Gigabit Ethernet
WIRELESS
- 802.11ax
- Wireless 2.4 GHz and 5 GHz Dual Concurrent Radios
- Up to 16 SSIDs (8 SSIDs per Radio)
- SmartSteering™
- Optim®
WIRELESS SECURITY
- Wi-Fi Protected Access (WPA, WPA2)
- Wi-Fi Protected Setup (WPS)
- MAC Address Filtering
REGULATORY:
- FCC 15B, 15C, 15E (DFS)
- UL
- Wi-Fi
*Maximum wireless signal rate derived from IEEE Standard 802.11g, 802.11n, and 802.11ac specifications. Actual data throughput will vary. Network conditions and environmental factors, including the volume of network traffic, building materials/construction, and network overhead lower actual data throughput rate. Environmental factors will adversely affect wireless signal range.
How to Buy
This product only sold directly through Service Providers.