Tech Helps Seniors Stay Safe at Home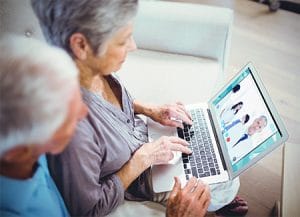 Finding and managing the right care for aging loved ones can be difficult. Many families find themselves in tough situations not wanting to compromise their loved ones' safety, while also wanting to avoid or deter a move to assisted living. Such moves can lead to a lower quality of life caused by loss of independence and disconnection from their community.
One company is doing innovative things by bringing technology into home care.  Mavencare uses mobile technology to provide updates to extended family during home care appointments. These updates are accessible on the web or on a smart phone using the Mavencare app.
The Mavencare app monitors day-to-day activity. In addition, their proprietary algorithms and machine learning capabilities can identify if there is an impending health issue. The technology alerts family members if something is detected. This helps to prevent avoidable emergency room visits.
Mavencare is currently in New York, Massachusetts and Toronto. They heavily screen all on-demand home caregiver applicants, hiring only around 4% of applicants.