Teen Social Media Habits and Experiences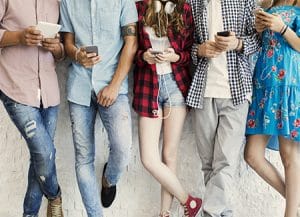 Pew Research conducted a survey of US teens to learn about the impact social media and growing up in the digital age has on teens.
It is universally acknowledged that teens feel overwhelmed by drama on social media as well as pressured to portray themselves in a positive light. Teens also believe that social media positively impacts friendships and exposes them to different perspectives. According to Pew Research, 81% of teens say they feel more connected to their friends because of social media.
Social media helps teens connect and maintain relationships, as well as encourages creativity and learning about the world. Negative associations with social media stem from drama, bullying and the pressures of presenting themselves in a way that looks good to others. These positive and negative aspects of social media influence the types of posts teens create. 34% of teens say they share things connected to their emotions and feelings. Nearly half post about their accomplishments and 22% post about their relationships. Age and gender create variance in what teens post about. For example, older teens tend to post more about their relationships or dating life.
Additional findings:
71% of teens associate social media with positive emotions and 25% associate it with negative emotions.
Teens also believe social media exposes them to different viewpoints and helps them interact with people from diverse backgrounds.
About 25% of teens say they rarely or never post selfies on social media, despite the rising use of smartphones. Girls are significantly more likely to post selfies than boys.
Girls post more about their family, emotions, feelings and religious believes than boys.
When associating social media with positive and negative words such as excluded or included, insecure or confident, the survey found that teens associate their social media use with the positive words more than the negative words.
For details of this research, click here.