Virtual Health Care is Winning Folks Over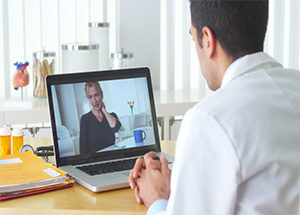 The Associated Press-NORC Center for Public Affairs Research released results from a new poll that shows nine out ten adults age 40 and older would be comfortable using telemedicine for themselves or a loved one.
With the population aging and a shortage of healthcare options for people in rural areas, virtual healthcare is gaining momentum. Even younger generations are using Skype to consult with their physicians or text with quick questions.
One concern of those willing to try virtual healthcare is privacy and security of the remotely monitored medical data being sent to doctors, nurses and healthcare facilities. And while it is convenient there are also concerns that telemedicine may lead to lower quality care. These issues are being addressed.
"While the interest is huge, one of the big barriers remains reimbursement," said Johns Hopkins University telemedicine chief Dr. Ingrid Zimmer-Galler. In other words, will insurance cover these services? Change is also in the wind with Congress passing new laws to ensure Medicare covers video chat and other high-tech options for care.