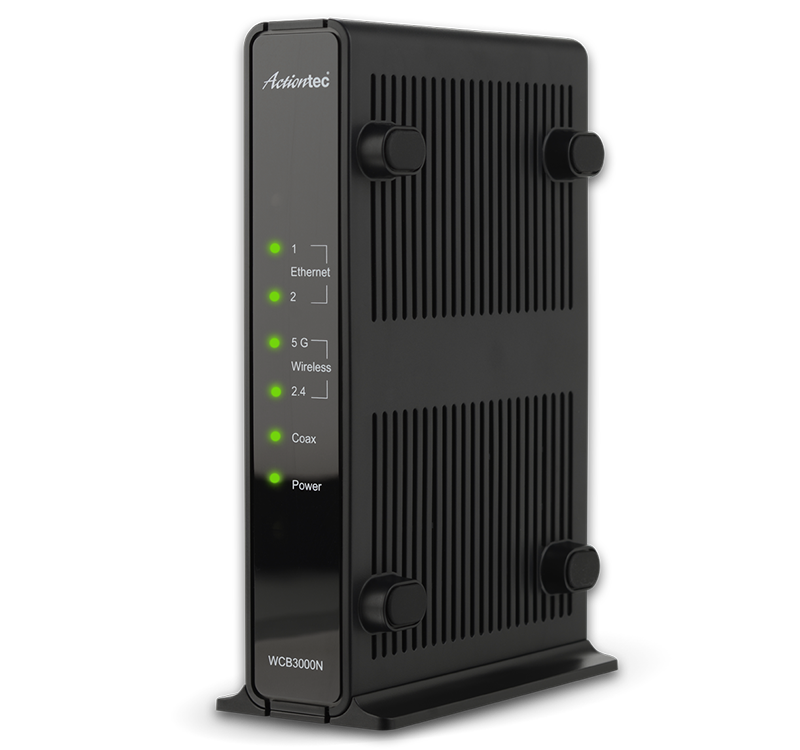 802.11n WiFi Network Extender with MoCA
WCB3000N
The
WiFi Network Extender
WCB3000N, MoCA or Ethernet-based Wireless Network Extender extends a homeowner's Wi-Fi network to an area of the home where wireless coverage was previously weak, such as a dead zone in the 2nd floor bedroom or 1st floor family room. Using a wired Ethernet or MoCA connection and offering dual 2.4 GHz and 5 GHz radios, the WCB3000N offers the best performance around for extending the home's Wi-Fi network.
Reseller Catalog #: WCB3000N01, WCB3000NK01
Why Superior to Range Extenders or Repeaters?
Wireless network repeaters connect to your router and devices simultaneously, which means 50% of your bandwidth is already used up before you even start using your applications. Also the further away the repeater is from the router, the less bandwidth you actually get. The WiFi Network Extender WCB3000N takes a different approach. It uses the coax wiring that's already in your home to extend the wireless signal, resulting in a whole-home Wi-Fi network that's as fast and strong as possible.
Dual Band for the Smoothest Video
The WiFi Network Extender WCB3000N makes sure you get the best possible performance with support for both 2.4GHz and 5GHz. You don't have to worry about interference problems from home phones, baby monitors, microwaves, or any other devices operating in the 2.4GHz band. You can use the cleaner, less crowded 5 GHz band for video streaming to the home theater for the smoothest viewing experience possible.
The WCB3000N WiFi Network Extender communicates directly with your Actiontec router over your home's existing network. The extender takes the credentials from your existing Wi-Fi network and creates a second network with the same name. This means that your devices go from one network to the other, seamlessly.
INTERFACES:
- Two 10/100/1000 Ethernet
- One MoCA 1.1/1.0 Coaxial Jack
WIRELESS:
- 802.11 a/b/g/n
- Wireless 2.4 GHz and 5 GHz
WIRELESS SECURITY:
- Wi-Fi Protected Access (WPA, WPA2)
- WEP, TKIP, AES Encryption
- Pre-Shared Key (PSK)
- MAC Address Filtering
REGULATORY:
- FCC 15B, 15C
- UL
- WiFi, WPS
- MoCA