Wireless HDMI means that you are sending HD video and audio to your TV from your computer, Blu-ray player or game console wirelessly. Instead of the hard-wired connections, you will attach a transmitter and receiver at either end that replace that long, ugly HDMI cable. Wireless HDMI technology is not new, but you may not have heard of it yet.
With wireless HDMI, simply connect a transmitter to the existing set top box in your living room so you and your friends can enjoy a wireless streaming experience wherever you place your TV.
The primary differences between wired and wireless HDMI have to do with aesthetics as well as the ability to place your TV where you like in your home or business. Both are capable of high quality video and audio transmissions.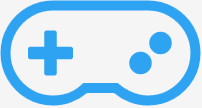 Gaming
If you're a gamer, you are no stranger to the woes of an ineffective or insufficient HDMI cable. Strained HDMI cables that are being contorted to suit your gaming console needs tend to weaken the cable and can cause video and audio to cut out. An easy way to extend your HDMI connection is to ditch the traditional HDMI cable and opt for wireless HDMI.
Cable / TV Boxes
With football, hockey and pro-boxing seasons here, it's time to host a party! You can watch the game or match on the HDTV in your living room. But what if you want to set up a TV in another room of your house, like the garage, game room, man cave, or even in the backyard while you're having a BBQ? Will you need to purchase and install an extra set top box for that TV? Not with Wireless HDMI.
Businesses/Offices

A wireless HDMI kit will allow you to wirelessly project up to 4K quality video from your media (PC, Blu-Ray player, set-top box, etc.) to your HDTV, turning your lobby, cafeteria or conference room into a great viewing experience for your clients and employees. Imagine the clean, professional look a it will create in your office, free from messy cables.
Meeting Spaces
Wireless HDMI is a simple and cost effective way to bring your conference room into the 21st century without having to deal with expensive or complicated installations. You can wirelessly stream presentations, projects, movies, TV shows and more from your media player to your HDTV. Turn your conference room into a professional and great viewing experience for coworkers and important clients.
Camping / Outdoors
Space is a premium in most campers, so who wouldn't want to reduce HDMI TV cabling and have greater flexibility in where you can set up your devices? Wireless HDMI allows you to connect your TV to your media devices (cable box, gaming console, etc.) without the clutter or limitations of standard HDMI TV cables.*
Doctor's Offices
Wireless HDMI allows you to wirelessly project up to 4k quality video from your media (set-top box, Blu-ray player, PC, etc.) to your HDTV. You no longer need long, messy cables to connect one to the other! By going wire-free, you can even place your media player and TV in separate rooms in the office. Reducing that cable clutter will you help gain the professional and clean appearance that you're looking for.