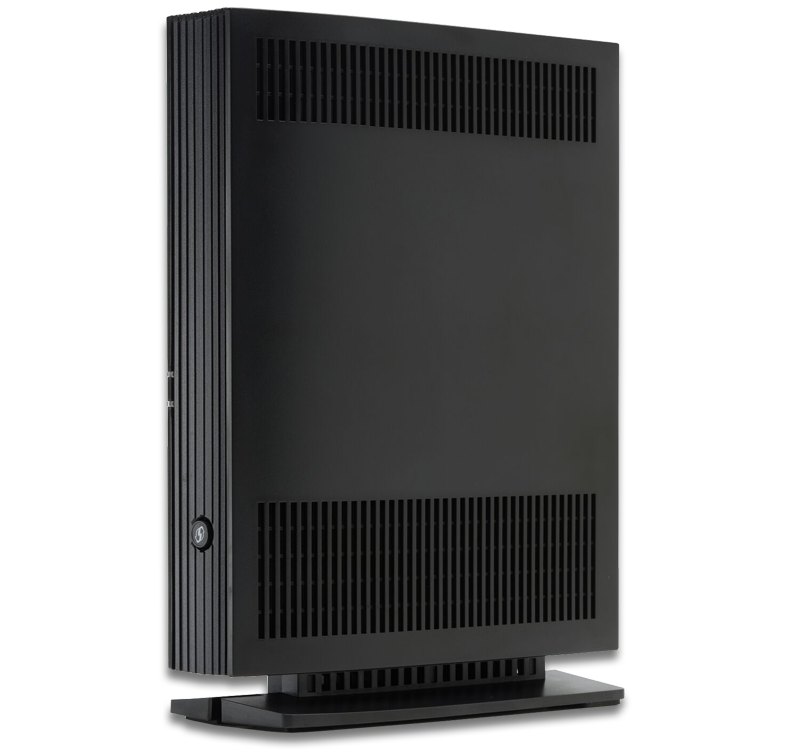 Bonded VDSL2/G.fast Wireless AC Gateway Router for CenturyLink
Deliver an ultra-fast and powerful home networking experience, with Gigabit access speeds, HD video, and multi-play services over any fiber network architecture. The C2300A supports fiber-to-the-home (FTTH), fiber-to-the-node (FTTN), fiber-to-the curb (FTTC), and fiber-to-the-distribution-point (FTTdp/MDU). Dual band WiFi (802.11n/ac) delivers wireless speeds up to 2.3 Gbps to enable your customers to get the best streaming and broadband experience anywhere in the home.
State of the Art Copper Technology
With support for G.fast, G.vector, G.inp, Reference Noise Cancellation, and the option to add GPON/EPON on SFP, the C2300A offers the most advanced innovations in DSL for faster speeds over copper – including 1 Gbps on short loops. Plus with pair-bonding, the C2300A can travel on two lanes rather than one, delivering the extended reach and high bit rates of the latest bonded VDSL technology for a superior HD IPTV experience.
Secure with Anti-HackingTechnology
The C2300A offers an unprecedented level of security for Residential Gateways, helping protect your network resources, and your customers' identity and assets, with defensive strategies like password protection, firewall for protection against DDoS and brute force attacks, HTTP spoofing prevention, internal encryption, and other system-level mechanisms to avoid hackers from breaking in.
Industry-leading Wireless Performance for Extreme WiFi Speeds
The C2300A has been designed from the ground up to deliver unparalleled WiFi performance. Using dual-band WiFi, the C2300A supports extreme wireless speeds up to 2.3 Gbps*. Quad-stream 4×4 architecture lets subscribers stream multiple HD videos simultaneously. And powerful radios are uniquely optimized for better wireless coverage across large homes.
– Supports ADSL2+, Bonded VDSL2, vectoring, G.fast, SFP for PON, and Gigabit Ethernet.
– Dual Band WiFi delivering up to 2.3 Gbps* with 802.11ac 4×4 5GHz and 802.11n 3×3 2.4GHz
– Optimized for IPTV and Video over WiFi
– SFP Cage for EPON/GPON ONT modules
– Pair Bonded Rate & Reach
LAN Interfaces:
– Four 10/100/1000 BaseT 802.3ab Ethernet LAN
– Two USB 3.0 Host Ports

WAN:
– VDSL2 35b (Single)
– VDSL2 30a (Single)
– VDSL2 17a (Single/Bonded)
– G.vector (Single/Bonded)
– G.inp (Single/Bonded)
– RNC for ADSL2+ and VDSL2 (Single & Bonded)
– G.fast (Single)
– SFP Cage & GbE
Wi-Fi Security:
- Wi-Fi Protected Access (WPA,WPA2)
- Wi-Fi Protected Setup (WPS)
- MAC Address Filtering


Regulatory Approvals/Certifications:
– FCC 15B, 15C, 15E (DFS)
– IC ICES-3(B)/NMB-3(B), IC RSS-247, IC CS-03
– UL, cUL 60950-1
– ITU-T K.21
– WiFi
– RoHS
– SNE


xDSL Protocols:
– G.993.2 (VDSL2)
– G.998.1 ATM bond
– G.998.2 PTM bond
– G.993.5 (G.vector)
– G.998.4 (G.inp)
– G.992.5 (ADSL2+)
– G.992.3 (ADSL)
– G.992.2 (G.lite)
– G.992.1 (G.DMT)
– ANSI T1.413
Wi-Fi:
– Dual-Band Concurrent 2.4GHz and 5GHz 802.11 a/b/g/n/ac
– 2.4GHz Three-stream Spatial Multiplexing up to 600 Mbps (11n) PHY Rate with 256 QAM
– 5GHz Four-stream Spatial Multiplexing up to 1.7 Gbps PHY Rate in 80 MHz with SGI
– Transmit Beamforming
– Support for STBC and LDPC, in both TX and RX for Increased Wireless Coverage
– Up to 16 SSIDs (8 SSIDs per radio)
– 3x3 internal antenna for 2.4 GHz
– 4x4 internal antenna for 5 GHz
– MU-MIMO (SW upgradeable)
– Wi-Fi Multimedia (WMM), WMM Power Save (WMM-PS)
– 802.11e Power Saving Mode
– Dynamic TX Power Control
– Community Wi-Fi HotSpot for subscribers
Advanced Security:
– Firewall
– Stateful Packet Inspection
– Website Blocking
– Web Service Blocking
– URL Keyword-Based Filtering
– Customizable Filtering Policies per Computer
– Denial of Service (DoS) Protection
– Demilitarized Zone (DMZ)
– Password Attack Prevention
– Security Logging
– IP Protocol Filtering
QoS Support:
– Diffserv– 802.1p/q Prioritization
– Configurable Upstream/Downstream Traffic Shaping
– Prioritization via DHCP Options
– Supports IEEE 802.1q VLANsIPv6
– IPv4/v6 Dual Stack & 6RD
– DHCPv6 with PD on WAN
– Stateful or Stateless (SLAAC) on LAN
Device Management:
– Password-protected access
– Statistics logging and reporting
– Remote Management: TR-069, TR-098, TR-111
– Local Management: WebUI, CLI (Telnet)
Advanced Features:
– DHCP Server Option
– DHCP Server/PPPoE Server Auto Detection
– DNS Server
– Fast Path Packet Acceleration (Hardware and Software)
– Full Bridge Device Control
– LAN IP & WAN IP Address Selection
– MAC Address Cloning
– Port Forwarding, Port Triggering
– IGMP v1, v2, v3 proxy and snooping– MAC Address Filtering
– Automatic WiFi Channel Selection
– Static Routing/Static NAT
– Self-Heal Diagnostics
– WAN Speed Test
– Wi-Fi Diagnostics
Environmental Conditions:
– Ambient Temperature Range: 0 - 40 °C
– Storage Temperature Range: -20 - 85 °C
– Operating Humidity: 10% - 85% Non-condensing
Power Adapter:
– Input 90-240VAC @ 1.0 A
– Output 12VDC @ 3.0 A
How to Buy
This product only sold directly through Service Providers.