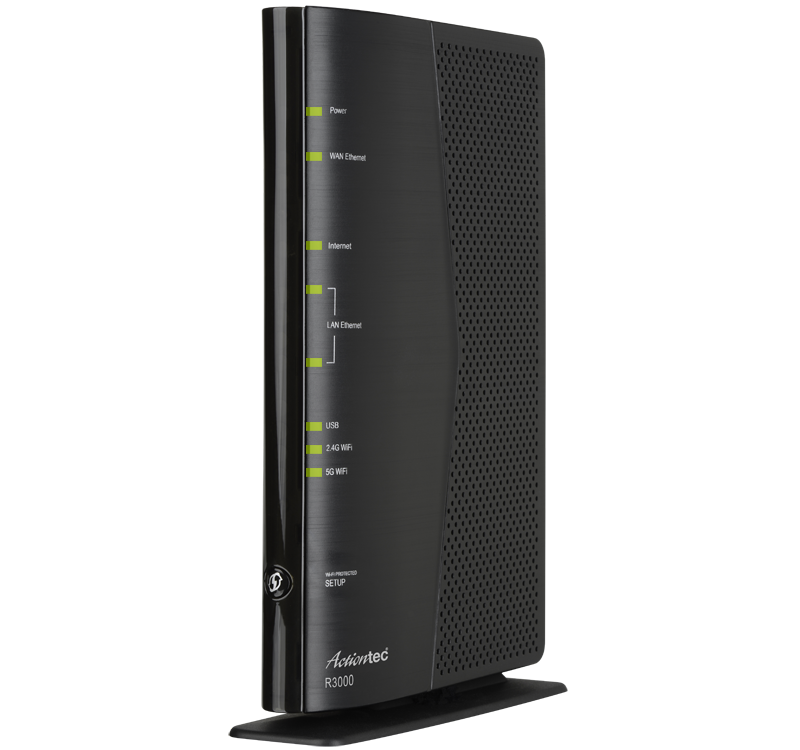 Gigabit Wireless Router with 4×4 802.11ac
Our latest gigabit wireless router, the R3000 delivers ultra-fast, ultra-powerful performance. Its technical specs are some of the best in the industry with GigE WAN/LAN, dual-band and dual-concurrent 2.4G 802.11n and 5G 802.11ac Wi-Fi. This router can support home networking speeds up to 1 Gbps over Ethernet and up to 2.3 Gbps over Wi-Fi. Superior Wi-Fi performance means the R3000 is capable of delivering more wireless bandwidth with a better range to reach the far corners of the home.
The R3000 Gigabit Wireless Router is packed with superior routing and networking capabilities to deliver line rate performance inside the home. Four LAN ports support wired Gigabit Ethernet speeds, while our blazing-fast wireless technology provides up to 2.3 Gbps over Wi-Fi (maximum theoretical PHY rate based on 1.7 Gbps 802.11ac and 600 Mbps 802.11n with SGI and 256 QAM).
Some of the best wireless specs in the industry
The R3000 Gigabit Wireless Router is one of the few gateway routers to support concurrent 3×3 operation on the 2.4 GHz band and 4×4 operation on the 5 GHz band. Digital Transmit Beam forming increases radio gain and reduces signal loss for a faster, stronger wireless signal that today's homeowners need.
Advanced security to protect the home network
The R3000 Gigabit Wireless Router features commercial grade protection, with WPA2 turned on by default. It also includes a fully customizable firewall with Stateful Packet Inspection, denial of service protection, content filtering, website blocking, web service blocking, intrusion detection, and additional encryption to prevent unwanted visitors from accessing the network.
TR-069 support and remote management
The R3000 equips technical support staff with unparalleled remote management and troubleshooting powers to provide superior customer experience and support.
INTERFACES:
- Four 10/100/1000 BaseT Ethernet LAN
- One 10/100/1000 BaseT Ethernet WAN
WIRELESS
- 802.11 b/g/n/ac
WIRELESS SECURITY
- Wi-Fi Protected Access (WPA,WPA2)
- WiFi Protected Setup (WPS)
- WPS Push Button
- WPS Pin
- MAC Address Filtering

REGULATORY:
- FCC
- UL
- WiFi

How to Buy
This product only sold directly through Service Providers.