Customers are more loyal when they find value in the services provided to them by their Service Provider. When it comes to their in-home WiFi experience, factors such as coverage, interference, congestion, and hardware configuration all contribute to their satisfaction with their Service Provider.  This should be important to you as greater satisfaction translates into higher customer retention.

Adapting to Subscriber Needs
WiFi is becoming increasingly complex, far from the plug-and-play expectations. For perspective, consider the growth in IoT device adoption. In 2019, there were 26.66 billion active IoT devices. When a household has multiple active IoT devices connected to their network and multiple networking equipment components to make their WiFi accessible throughout the home, WiFi performance is bound to take a hit. WiFi problems are difficult to troubleshoot given that the issue could be related to traffic, equipment, software, configuration or a number of other complex issues. Connectivity issues are a critical element that negatively impact overall quality of experience ratings and are often costly to resolve via increased customer support calls and even truck rolls.
Create Demand with WiFi QoE
Most of QoE boils down to WiFi performance. WiFi issues directly impact QoE. When a subscriber experiences poor WiFi performance, they often assume it's because something is wrong with their Internet connection rather than a WiFi issue. This confusion triggers a customer support call, which could lead to additional technical support requests and may even result in a truck roll, with service provider costs per ticket ranging from $22 for calls ending at the service desk to $471 for issues ending at the vendor level. Service providers can leverage managed WiFi solutions to help improve WiFi performance and reduce the number of tech support calls.
Optim Managed WiFi leverages machine learning and AI technology to address complex home networking issues. Service providers who deploy managed WiFi solutions can engage their subscribers and empower them to take control of their home networking. Optim provides subscribers and service providers with valuable network visibility, helping subscribers to navigate the various elements of their network.
Value-add Features from a Subscriber Perspective:
Self-serve Network Health – Subscribers can see their entire network at a glance from the dashboard. Optim houses all components of the home network and allows subscribers to see how each component is performing and identify under-performing elements of the network.
Manage Connected Devices – With so many devices connected to the network at once, it's important for subscribers to actively manage those devices for optimal WiFi performance and as a security precaution. From the Optim dashboard, subscribers can remove unfamiliar devices, disconnect devices that are no longer in use, and
Self-serve Troubleshooting – Most subscribers don't want the hassle of a phone call to tech support when they are experiencing network performance issues. With Optim, subscribers have three troubleshooting options before a call is even necessary. With Optim's self-healing capabilities, the subscriber can get notifications when Optim identifies a performance issue and the subscriber can elect for Optim to automatically fix the issue. In addition, from the dashboard the subscriber can resolve basic network issues themselves. When the issue is more complicated, the subscriber has the option to remotely contact tech support for a resolution, no phone call necessary.
Gain Valuable Customer Insights:
Real-time Data Reporting – Successful network management depends on big data management. Home networks create large amounts of data. With big data analytics, service providers can glean important network information to help identify potential network issues that may impact subscribers. Utilizing this data results in faster and more accurate call resolution and operational cost savings.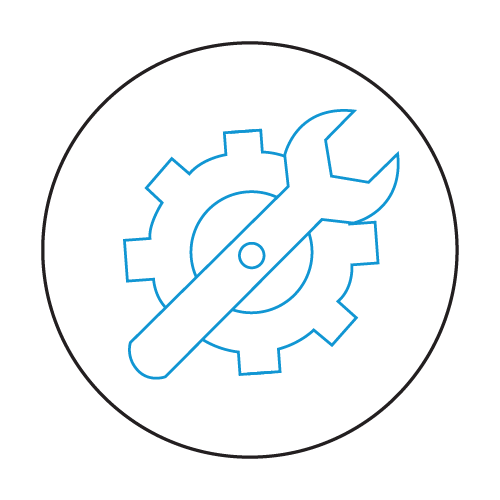 Remote Troubleshooting – Service providers also stand to benefit from the remote troubleshooting features. When a subscriber calls for assistance, the support technician can use real-time information to diagnose and resolve many WiFi issues without a truck roll.
Machine Learning and AI technology – Machine learning and Artificial Intelligence allows service providers to utilize large amounts of data collected from the home network to deliver a better WiFi experience without intervention or service interruptions.
Future-proof with Intelligent WiFi
Creating solutions for current WiFi issues is important. For long term success, service providers must take a forward-thinking approach. Rather than investing in singular solutions that address today's WiFi issues, service providers are challenged to adopt solutions that are agile and flexible enough to be applied to future evolutions of WiFi, well beyond the possibilities that are on the horizon. Optim is that solution. AI technology makes managed WiFi a future-proof way to stay ahead of new WiFi technology and reduce the amount of time necessary to transition subscribers to that new technology. WiFi 6 devices are being introduced to the market and consumers are already expecting the speeds and performance boost of WiFi 6. With managed WiFi, service providers can efficiently transition to WiFi 6 technology without compromising quality of experience.
WiFi issues and new evolutions of WiFi will continue to complicate home networking. When subscribers are provided the self-service tools to manage their networking experience and have easy access to networking solutions, service providers can significantly reduce subscriber churn and operational costs.
Better WiFi performance and easier network maintenance go hand in hand with Optim. Optim has been deployed to over 5 million homes as the first managed WiFi and service level platform. Service Providers wanting to learn more about Optim's home networking and data management tools, should contact us today.