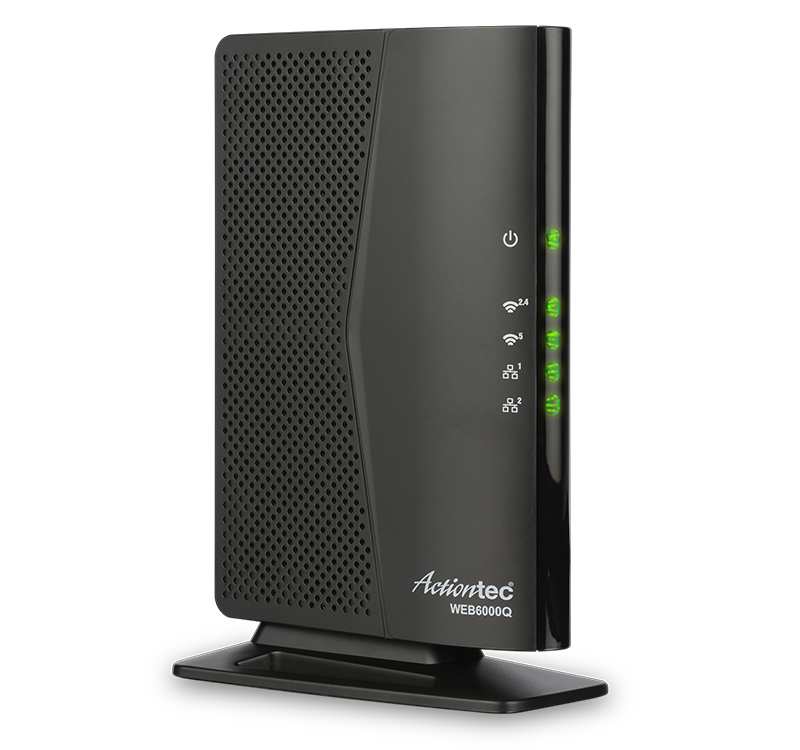 802.11ac WiFi Network Extender
This Gigabit Ethernet WiFi Extender obliterates wireless dead spots, so users can enjoy faster speeds and better wireless performance wherever they need it…including basements, garages, and second floors. Using 802.11ac WiFi and a powerful 4×4 5GHz radio, the WEB6000Q WiFi Network Extender delivers faster Wi-Fi throughput speeds of up to 1.7 Gbps, enabling smooth streaming of HD video and online gaming without glitches or lag.
Reseller Catalog #: WEB6000Q02
Don't have a wireless router that supports high-speed 802.11ac yet? No problem. The WiFi Network Extender WEB6000Q adds 802.11ac to your network, delivering wireless speeds up to 2.8 times faster than your wireless N network. With a total WiFi throughput up to 2 Gbps*, the WEB6000Q lets you stream HD-quality video and play online games without any glitches or lag. It's one of the most cost-effective ways to upgrade your network to next generation technology without replacing your router.
Concurrent Dual-band 2.4GHz and 5GHz Radios
With dual-band concurrent radios, the WEB6000Q can transmit on both the 5GHz and 2.4GHz wireless bands simultaneously and provide two independent wireless networks. The 2.4GHz band can be used for basic web browsing, while the 5GHz band (which is cleaner and has less interference) is ideal for video streaming and gaming. And support for the latest 802.11ac Wi-Fi standard offers the fastest wireless speeds around.
Outperforms the Competition in Multilevel Homes
According to tests performed by Allion USA, the WiFi Extender outperformed its competitor on the 5GHz band (client receive direction) by up to 2x the throughput at far locations within the 3000 sq ft test house. As a result, the Extender is the preferred solution for extending wireless coverage to an upstairs or downstairs floor.
Optimized for Video over WiFi in your Home
Thanks to its advanced video prioritization and QoS capabilities, the WiFi Network Extender WEB6000Q delivers the best possible experience for streaming HD video to the living room. Carriers can create a separate high-performance video network that ensures video quality regardless of network traffic. The WEB6000Q acts as a video bridge, supporting multiple wireless STB video streams while adjusting the data rate in real time (via QoS) for the best possible performance.
Zero Configuration Installs
The WEB6000Q takes all the complexity out of setting up an extender in the home network. Users simply need to connect the adapter to a Gigabit Ethernet port in the home. The Actiontec gateway will automatically pass all of the wireless settings to configure the adapter in seconds, without any user intervention.
The WEB6000Q includes a full suite of remote TR-069/TR-181 management features, giving Broadband Service Providers the ability to remotely manage and troubleshoot the Extender, reducing operational expenses and ensuring a flawless customer experience.
INTERFACES:
- Two 10/100/1000 Ethernet
WIRELESS:
- 802.11 a/b/g/n/11ac
- Wireless 2.4 GHz and 5 GHz Dual Concurrent Radios
WIRELESS SECURITY:
- Wi-Fi Protected Access (WPA, WPA2)
- Wi-Fi Protected Setup (WPS) with WPS Push Button
- Pre-Shared Key (PSK)
- MAC Address Filtering
- AES Encryption
REGULATORY:
- FCC 15B, 15C
- Canada ICES
- UL
- WiFi, WPS
How to Buy
This product only sold directly through Service Providers.