Another Bad Quarter for Pay-TV Subscriber Losses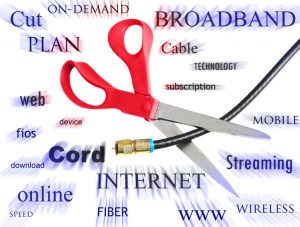 In what is no longer eye-popping news, the biggest pay-TV providers reported another huge net loss of pay-TV subscribers during the third quarter. While only five of the seven biggest pay-TV providers have released their third quarter subscriber data, collectively they saw a combined net loss of 632,000 pay-TV subscribers.
Verizon said it lost 18,000 Fios TV users in Q3 and Charter reported a loss of 104,000. But the providers with the greatest losses were AT&T and Comcast.
AT&T's DirecTV and U-verse TV businesses were hammered in the third quarter of 2017, while the telco's over-the-top DirecTV Now service delivered its biggest quarterly increase since launching less than a year ago. The company reported a record quarterly loss of 385,000 traditional pay-TV subs, 251,000 for DirecTV and 134,000 for U-verse, which AT&T blamed on increased competition from other pay-TV operators and over-the-top services, as well as implementing stricter credit standards.
Cable giant Comcast suffered its largest quarterly loss of cable television subscribers in three years, underscoring the pressure on traditional TV providers as the marketplace heats up with new players. The company lost 125,000 residential and business customers, compared with a gain of 32,000 in the same quarter last year.
It should be noted that both Comcast and AT&T believe the spate of major hurricanes in the quarter contributed to the subscriber losses.
We're still waiting for Altice USA and Dish Network to report. Neither has specified an earnings date. Some analysts believe Dish will once again have big losses to talk about. Privately held Cox Communications, the third largest U.S. cable operator, also must be factored into the mix.
Just a few weeks ago, UBS analyst John Hodulik predicted that cable, satellite and telco operators would collectively lose more than 1 million customers in Q3 across their linear platforms. Analysts had predicted the same thing for the second quarter, which is usually the worst three-month period for operators in terms of subscriber growth. The industry came close to the 1 million mark for Q2 of this year.
Interestingly, the losses don't factor in virtual platforms like DirecTV Now, which according to AT&T, gained 296,000 customers in the third quarter.
But the other side of that is that analysts have generally been dismissive of virtual MVPDs as replacements for linear service. "DirecTV's OTT service is one of no less than five competing vMVPD services, none of which is charging enough to make money," said MoffettNathanson analyst Craig Moffett.