TV Sets Are Disappearing from Homes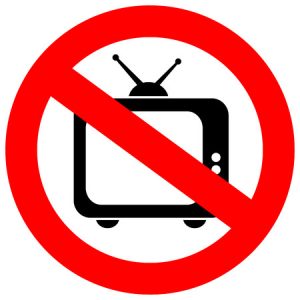 After years of being in denial, the TV industry admits that it's market is contracting — the number of people paying for TV has been declining for several years. In a new report from the U.S. Energy Information Administration, we learn that the average number of televisions in American homes is now declining, and declining at a fairly significant and measurable rate.
It's worthwhile to note that there have been whispers of this decline in the industry, but as Recode, who reported on this decline, noted: "the TV Industrial Complex now admits that it's contracting…"
After years of steady increases, the number of TVs in homes shrank to an average of 2.3 in 2015, down from an average of 2.6 televisions per household in 2009, according to the latest available data from the Energy Information Administration.
In its report the EIA said, "Entertainment and information devices, in particular, vary by age: Younger households tend to have a lower concentration of televisions per person and a higher concentration of portable devices such as laptops and smart phones. Older households are more likely to have higher concentrations of desktop computers."
Not only does the data show a meaningful decline in the average number of TVs in American homes, but it notes that this trend has been developing for years, and especially so since 2009. This is a painful result after literally decades of growth in the category that was for many, the centerpiece of their home AV systems.
Will YouTube score with availability of 2017 NFL Season?
When it comes to cutting the cord to pay TV, one of the top issues that any household must address is the loss of sports programming. But in recent years, the availability of quality streaming services is making that decision easier.
The sports broadcast industry is admitting that streaming is the future of all television. Despite having lucrative deals with major networks to broadcast games, more and more sports leagues and organizations are beginning to sign agreements with streaming services.
Earlier this year, YouTube announced it was rolling out YouTube TV. This has now become an affordable way to watch the NFL online without cable despite still being in its infancy. A subscription for YouTube TV currently runs $35 a month and provides live streams of over 40 of the most popular networks including ABC, CBS, Fox, and NBC, ESPN channels, CBS Sports Network, NBC's Golf Channel, Fox Sports 1 and 2, some regional sports networks, as well as a wide range of non-sports channels.
Unfortunately, the NFL Network is currently unavailable on YouTube TV. And there are still some local market affiliate agreements in place that will make the streaming service unavailable. YouTube TV might not be the most comprehensive NFL package for die-hard fans, but will still offer enough network coverage to catch most NFL games and pre-game shows. For a reasonable monthly price, YouTube TV is offering a great cable-cutting option for both NFL fans and general television audiences alike. Is this the big play YouTube TV needs to be a leader in streaming sports?