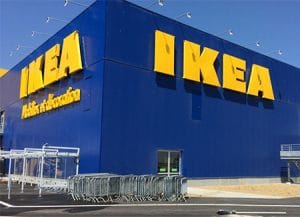 Having IKEA in the smart home industry is a big deal for consumers because its products are effective, affordable and easy to use. In 2017, the company introduced its line of smart home products, starting with IoT connected light bulbs called TRÅDFRI LEDs.
The TRÅDFRI smart lighting kit includes LED bulbs, motion sensors, dimming switches and more. You can control up to 10 different wireless LED bulbs with the connected remote and can also control the lights with HomeKit, Alexa and Google Assistant.
Now, IKEA is introducing smart blinds. Called FYRTUR, these blinds were set to launch on April 1, but the launch has been delayed until sometime later this year for a firmware update.
IKEA FYRTUR Smart Blinds Features
The FYRTUR blackout blinds are expected to cost around $120-$180, depending on the size. The exact pricing is not confirmed. One thing that is certain, however, is that they will be some of the most affordable smart blinds on the market.
These low-cost smart window blinds look like IKEA's typical blackout shades. These motorized blinds will come with a remote control and rechargeable battery pack but can also be controlled by the same smart home app that talks to the TRÅDFRI lighting system. Everything is connected.
Something else to look forward to? Next year, IKEA will launch GUNRID, an air-pollution fighting curtain. While this product is not an IoT connected smart device, it is positioned as a different kind of smart product to consider in the home.