Qi Chargers Wirelessly Charge Your Phone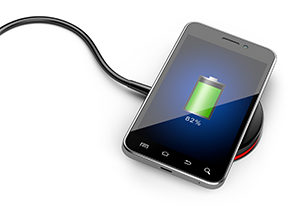 Chances are your cell phone is Qi compatible and you can take advantage of wireless charging. Both the Android and IOS platforms support Qi technology. Qi is pronounced CHEE from the Chinese word qi, "energy flow."
Historically Qi-enabled wireless charging bases come at a steep price, but right now two of them are on sale with Amazon, making wireless charging within reach to everyone.
Samsung's Fast Charge unit is on sale for $25, and Anker's Ultra-Slim Wireless Charging Pad is only $14.99.
Both devices are Qi-certified and use temperature optimization so your phone won't overheat while charging. Qi-certified phones work on all models that support Qi technology. Samsung and Anker both boast of fast performance but wireless charging is more about the convenience, and most people charge while sleeping.
In tests, both models performed well and showcased strong ratings on Amazon from consumers.