Research Shows Seniors Using Video Chat are Uplifted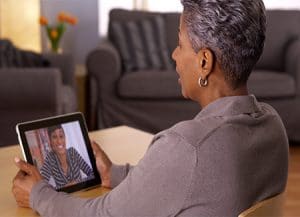 People that have family across the country, across the world, or have lost loved ones are at higher risk of social isolation and depression. This social isolation and depression are common in older adults. In 2015, research showed that 5% of adults that were 50 years or older lived with major depression.
Communication Technology Combats Depression
A new study by researchers at OHSU in Portland, Oregon indicates that communication technology could help address depression in older adults. In particular they looked at four online communication technologies: video chat, email, social networks and instant messaging.  
Over a two year period, these researchers looked at people 60 years and older that used each of these communications channels. They found that video chatting with friends and family conclusively held the most promise in reducing the risk of depression among seniors. 
Those who used email, instant messaging or social media platforms like Facebook had similar rates of depressive symptoms compared with older adults who did not use any communication technologies at all.
Researchers are not surprised by these results. After all, video chatting is engaging in face-to-face interactions rather than passively scrolling through feeds. Video chat platforms like Skype or FaceTime allow people to connect directly with family and friends all around the world.