Tiny Computer Created by University of Michigan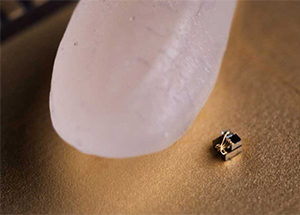 By tiny we mean tiny. The University of Michigan created a tiny computer in order to beat out IBM's record for the smallest computer in the world and regain the university's title. This tiny computer measures 0.3mm and is much smaller than a grain of rice.
Both of these devices transfer and receive data using visible light, since they are too small to have normal radio antennas.
In order to qualify as a computer, a device must retain programming data when it is not externally powered. Both U of M and IBM's tiny devices lose all of their programming when they lose power, which leads to questioning about if these devices truly qualify.  David Blaauw, a Michigan researcher, says that it's a matter of opinion if both of the machines can really be called computers.
Either way, the University of Michigan has regained its title.