Get Better Wi-Fi…up to 1 Gbps
Create a 1 Gbps "Internet Autobahn" between your Router and a WiFi Extender. This super highway uses the existing cable wiring as a backhaul or "Internet Autobahn" for expanding the Wi-Fi network beyond your primary router. It creates a bigger pipe for all of your traffic, meaning faster speeds, steadier connections and less congestion! This is perfect for pristine 4K and HD streaming of Netflix and YouTube videos for example.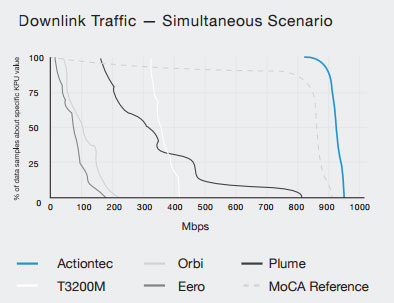 Much Faster than WiFi Mesh
Actiontec's MoCA Wi-Fi extenders achieved near-gigabit Wi-Fi speeds in an independent field test commissioned by the MoCA Alliance — surpassing some of the most popular mesh solutions by an average of several hundred Mbps.
Eliminate WiFi Deadspots
Is there a place, or two, in your home where you can't use your tablet? Or where the WiFi network is too slow for online gaming or streaming video? Due to the size of your home or construction features, a wireless router might not be able to provide enough coverage to reach every corner of your home. But, by adding a WiFi extender, you can bring high speed WiFi anywhere in the house
How Does it Work?
The Actiontec WiFi Network Extender communicates with the gateway using your home's existing coax wiring. It takes the credentials from your existing Wi-Fi network and creates a second network with the same name. Your devices go from one network to the other, seamlessly.

Add Next Generation 802.11ac Speeds to your Network
Our new WxB6x00Q Wireless Network Extenders add 802.11ac to your network delivering wireless speeds up to 2.8 times faster than wireless N. With a total throughput up to 2 Gbps, the WxB6x00Q extenders ensure you can stream HD-quality video and play online games without any glitches or lag.
Dual Simultaneous 2.4 and 5GHz Wi-Fi for Faster Performance
Improve your wireless experience with dual band (2.4 GHz and 5 GHz), designed to avoid RF interference and WiFi congestion for smoother and faster video streaming and better all-around wireless performance. While the 2.4 GHz band is crowded today, there's much less congestion in the 5 GHz band. Use 2.4 GHz for basic web applications, while reserving the 5 GHz band for applications like streaming HD video to your television.

Works Wherever There's a Coaxial Jack
Wherever you have a coaxial port, you can get high speed Internet access. If you want to connect a game console in the basement or create a new home theater upstairs, connect a WCB6200Q WiFi Network Extender to a coaxial port for instant connectivity.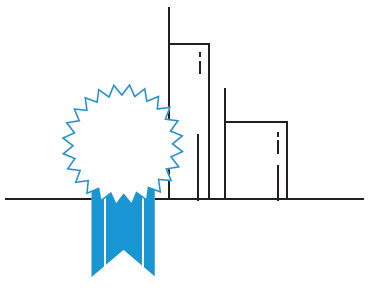 Award Winning
2017 Golden Bridge Award – Best New Product or Service in Telecommunications
2017 American Business Award ("The Stevie") – Best New Product or Service of the Year in Hardware – Networking
2017 Hot Companies and Best Product Award – Best IT Products and Services for Wired and Wireless LAN Infrastructure
2016 Best in Biz International- Consumer Product of the Year
2016 American Business Award ("The Stevie") – Best New Product or Service of the Year in Consumer Electronics
2016 American Business Award ("The Stevie") – Best New Product or Service of the Year in Hardware – Networking
2016 BMMA Best in Class Marketing Award
2015 Best in Biz – Best New Consumer Product of the Year
2015 Golden Bridge Award – Best Mobile/Wireless Solution
2015 Golden Bridge Award – Best in Telecom, Cable, Broadband and Voice
2015 American Business Award ("The Stevie") – Best New Product or Service of the Year in Telecommunications
2015 American Business Award ("The Stevie") – Best New Product or Service of the Year in Hardware Networking
2015 Hot Companies and Best Product Award – Best IT Products and Services for Networking
2015 Hot Companies and Best Product Award – Best IT Products and Services for Mobile and Wireless Solutions
2015 Hot Companies and Best Product Award – Innovations in Mobile and Wireless
2014 American Business Award ("The Stevie") Finalist – Best New Product or Service of the Year in Hardware – Networking
2014 Hot Companies and Best Product Award – Innovations in Mobile and Wireless
2014 Hot Companies and Best Product Award – Best IT Products and Services for Telecommunications
2014 Hot Companies and Best Product Award – Best Mobile and Wireless Solutions
2014 BMMA Best in Class Marketing Award
2014 Big Bruin Great Idea Award
2014 Big Bruin Highly Recommend Award
2013 Golden Bridge Award – Best Mobile/Wireless Product of the Year
2013 Best in Biz Consumer Product of the Year
2013 Technology Integrator EXC!TE Awards
2013 American Business Award "The Stevie" – Best New Product or Service – Hardware – Networking
2013 Hot Companies and Best Product Award – Networking
2013 Mobile Merit Award Runner Up
2013 Broadband InfoVision Award — Shortlisted