Home Networking
WiFi Network Extenders
Deliver Better Wi-Fi…to Every Corner
Actiontec's Wireless Network Extender family includes both coax and Ethernet-based models. We use the latest bonded MoCA 2.5 technology to extend the router's signal throughout the home's existing coax cabling, to bring a fast and reliable 802.11ax Wi-Fi signal to those areas of the home that can't be reached with the existing router. With our Ethernet-based Wireless Network Extenders, you can plug into the Ethernet port of the subscriber's existing router or gateway and provide an instant upgrade to 802.11ax.
Get the Flexibility of both Coax and Ethernet-based
Wired and Wireless Solution All-in-One
Deliver Gigabit Ethernet Speeds
The Latest WiFi 6 Technology
Reliable 802.11ax Wireless
Wireless Security Protection
AutoDetect Wizard for Quick Connection
SmartSteering™ Technology
Pairs with Optim® Managed WiFi Solution

Wired or Wireless Flexibility
Get the flexibility you need to deliver the best possible WiFi experience: the convenience of Wi-Fi throughout the entire home with the solid reliability of wires and faster speeds where ever you need them. Our family of Wireless Network Extenders ensure your customers can stream HD-quality and play online games without any glitches or lag.  With MoCA technology, our WiFi Extenders transform existing coaxial wiring into an incredibly reliable Ethernet network that delivers fast, gigabit Internet access to the many devices in the home. And, with our advanced beamforming wireless technology, RF interference and WiFi congestion is eliminated for smoother, faster video streaming and higher quality wireless performance.  You get the power of a wired or wireless connection, extended to the far corners of the home.
Next Generation WiFi 6 Speeds and Technology
802.11ax/WiFi 6 isn't just faster WiFi – it's the future of WiFi. 802.11ax can deliver wireless speeds up to 10x faster and uses a revolutionary technology OFDMA to dramatically increase network capacity. With 802.11ax your customers can stream HD-quality video and play online games without any glitches or lag.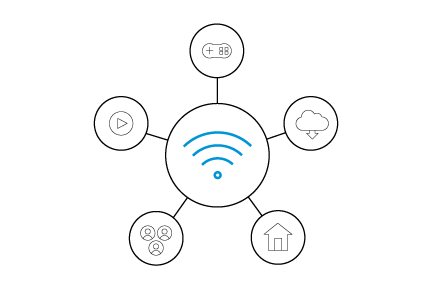 Supports Bandwidth-hungry Multimedia Applications
Designed to handle massive video, gaming, and Virtual Reality bandwidth traffic, Actiontec's Wireless Network Extenders support the delivery of high quality, high performance HDTV video streaming, with multi-channel HD video throughput.
Video quality is ensured, regardless of network traffic since our Wireless Network Extenders act as a video bridge, supporting multiple wireless STB video streams while adjusting the data rate in real time (via QoS) for the best possible performance.
In-Home WiFi Network Management
Actiontec provides an intelligent platform to help you manage your subscriber's home networks with OptimTM WiFi Management software. Gain in-depth visibility into the home network to diagnose and manage WiFi issues, either by self-serve or remote troubleshooting without dispatching a technician.  As an option, Actiontec's Optim Managed Service Assurance Platform enables third party solution providers to host their solutions on our router/gateway platform via APIs.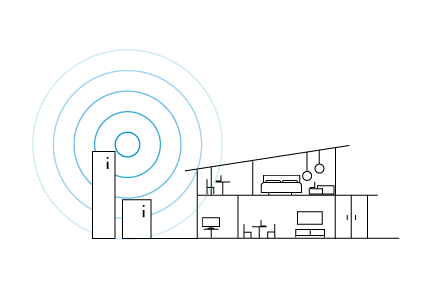 The Brand Service Providers Trust


2018 Best in Biz North America
Most Innovative Product of the Year

2017 Golden Bridge Award
Best New Product or Service in Telecommunications

2017 American Business Award ("The Stevie")
Best New Product or Service of the Year in Hardware – Networking

2017 Hot Companies and Best Product Award
Best IT Products and Services for Wired and Wireless LAN Infrastructure

2016 Best in Biz International
Consumer Product of the Year

2016 American Business Award ("The Stevie")
Best New Product or Service of the Year in Consumer Electronics

2016 American Business Award ("The Stevie")
Best New Product or Service of the Year in Hardware – Networking

2016 BMMA Best in Class Marketing Award

2015 Best in Biz
Best New Consumer Product of the Year

2015 Golden Bridge Award
Best Mobile/Wireless Solution

2015 Golden Bridge Award
Best in Telecom, Cable, Broadband and Voice

2015 American Business Award ("The Stevie")
Best New Product or Service of the Year in Telecommunications

2015 American Business Award ("The Stevie")
Best New Product or Service of the Year in Hardware Networking

2015 Hot Companies and Best Product Award
Best IT Products and Services for Networking

2015 Hot Companies and Best Product Award
Best IT Products and Services for Mobile and Wireless Solutions

2015 Hot Companies and Best Product Award
Innovations in Mobile and Wireless

2014 American Business Award ("The Stevie") Finalist
Best New Product or Service of the Year in Hardware – Networking

2014 Hot Companies and Best Product Award
Innovations in Mobile and Wireless

2014 Hot Companies and Best Product Award
Best IT Products and Services for Telecommunications

2014 Hot Companies and Best Product Award
Best Mobile and Wireless Solutions

2014 BMMA Best in Class Marketing Award

2014 Big Bruin Great Idea Award

2014 Big Bruin Highly Recommend Award

2013 Golden Bridge Award
Best Mobile/Wireless Product of the Year

2013 Best in Biz Consumer Product of the Year

2013 Technology Integrator EXC!TE Awards

2013 American Business Award "The Stevie"
Best New Product or Service – Hardware – Networking

2013 Hot Companies and Best Product Award

2013 Mobile Merit Award Runner Up

2013 Broadband InfoVision Award