IHS Markit: Foldable AMOLED Panel Shipments to Reach 50 Million Units by 2025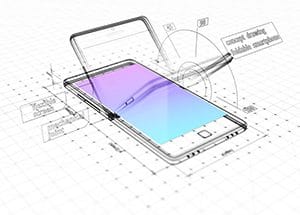 Foldable active-matrix organic light-emitting diode (AMOLED) panels are providing a new, innovative user experience in smartphones. IHS Markit expects shipments to reach 50 million units by 2025. Foldable AMOLED panels are considered to be the most marketable of new smartphone technologies, China's Royole Corporation recently released the world-s first foldable-screen smartphone. Other brands are expected to follow in 2019. Foldable screens have some smartphone companies concerned, as the phones must be durable enough for folding as well as thin and light while supporting a larger display and battery.
Additional information includes:
Of the 825 million total AMOLED panel shipments, foldable AMOLED panels account for 6%.
IHS Market's AMOLED & Flexible Display Intelligence Service report cautions panel supplies to consider demand increase before investing in additional fabs. Additionally, the supply capacity of flexible AMOLED panels is expected to account for 50% of total AMOLED capacity in Q4 2019.
For more information from IHS Markit's report, click here.