Nielsen: Linear TV Viewing Continues to Rise Despite Industry Focus on Streaming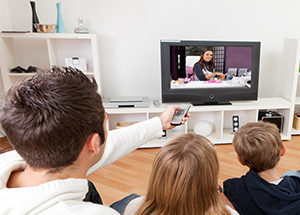 According to a recent report from Nielsen, Americans watched nearly 6 hours of video per day during the first quarter of 2018, a significant jump from the prior quarters. The report shows that 64% of homes have a video-on-demand service and an additional 2.7% of homes subscribe to multi-channel video programming such as Sling, DirecTV Now and YouTube TV.
While the industry is focusing on streaming and on-demand services, linear TV has seen an increase in viewership as well. Adults spent 4 hours and 46 minutes per day watching live and time-shifted TV, showing an increase from previous quarters. Viewers ages 65 and up watch live and time-shifted TV 60% of the time while viewers between the ages of 18 and 34 only watch it 26% of the time. This fragmented media landscape allows consumers to completely customize their TV experience.
The report noted that 4% of all US homes are not considered TV households, but 6 of 10 of those households have internet access that allows them to stream content.
Additional findings :
Radio reaches 92% of US adults, the highest of all platforms
Of the 11 average hours a day that US adults spend on linear and digital TV, 6 hours are video.
Young adults between the ages of 18-34 spend the largest percentage of time with TV-connected devices and digital devices.
Nearly 3% of TV homes subscribe to a virtual multichannel video programming distributor.
Almost 20% of consumers utilize a smart speaker.
Almost 66% of US TV households have TV sets that are capable of streaming media.
In streaming capable homes, one out of 10 minutes of television use is streaming to a TV set.
Over eight in 10 households without television still view video content.